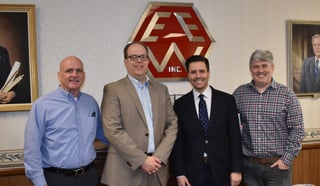 Elsner enjoyed hosting State Rep. Jim Christiana for a visit on Friday.
"He is pro business with a proven track record and is shooting to take Bob Casey's Senate position," remarked CEO Bert Elsner II.
A motivating factor for the visit from Rep. Christiana is Elsner's involvement in the Workforce Development initiative with the Hanover Area Chamber of Commerce. Rep. Christiana is no stranger to Workforce Development initatives. He was instrumental in the workforce development connected to the Shell Appalachia $6 billion ethane cracker in Potter Township.
"We are happy that he chose Elsner as the Hanover business to visit," added Elsner. "Our growth rate as well as our focus on community and student skill development made Elsner a worthwhile stop for Representative Christiana."