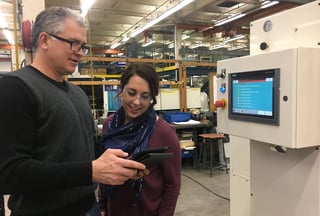 It's February 2018 and the internet of things, or IoT, is becoming commonplace. Most of us have heard the term IoT, and many of us have adopted the technology in one way or another. Have you plugged into an Amazon Echo or maybe a Google Home? Do you monitor your thermostat or security remotely? These examples of IoT technology in our homes have become attainable by the general consumer as prices for hardware have gone down.
Just as IoT hardware became a commodity for consumer products in 2017, could the same value proposition translate into Industry 4.0 with the Industrial Internet of Things (IIoT) in 2018? Can companies disrupt the current paradigm where IoT costs require a multi-year payoff to achieve benefits? ELSNER, manufacturers of converting equipment for paper, foil, film and nonwovens, says YES.
IIoT Benefits for Manufacturing
You can't deny the potential benefits when it comes to bringing IIoT into the manufacturing sector. However, hardware and the associated costs, especially industrial grade hardware, has been a barrier to entry when it comes to implementing the technology. Without price wars such as the one between Google and Amazon to drive costs down, the industrial sector has not had the same downward pressure as the consumer market. In fact, many companies don't know where to begin when implementing such technology, even if they understand the inherent benefits. ELSNER is now able to take the guesswork out of the process of implementing IIoT into your converting operation in an easy and FREE way.
Hanover, Pennsylvania-based ELSNER, introduces ELSNER IIoT. With over 80 years of experience in manufacturing converting machinery, ELSNER knows what it takes to stay competitive by implementing innovative solutions to everyday challenges. And in the world of manufacturing, it's all about driving solutions to maximizing your asset utilization for your best profits. ELSNER IIoT does just that!
What Does ELSNER IIoT Do?
ELSNER IIoT is a platform that can be utilized with our converting machines to improve and fine-tune total uptime, provide hourly production metrics and reduce indirect and non-productive time on your ELSNER equipment. Software users also enjoy exclusive maintenance tips, manuals and production video tutorials to maximize the value of their ELSNER asset.
ELSNER IIoT allows for the remote monitoring and troubleshooting of the innovative wipes production converting machines ENR-1000 and just-released G3. Text reminders can be customized to your converting environment, creating tiered alerts that allow the right resources in your organization to be notified with the right alerts to minimize lost operating time.
The software is free and can also be bundled with an ELSNER service plan and the hardware, including on-site installation and integration of your ELSNER machinery. The cost is less than 1/5th of what is considered a 'simple IoT project cost.'[1] Moreover, ELSNER machines, once connected, literally make your life easier as a converter.
What does all this mean? Thanks to ELSNER IIoT, realizing the benefits of IIoT is affordable and achievable TODAY.
Contact us at sales@elsnereng.com to learn more.
[1] Internet of Things: How Much Does it Cost to Build IoT Solution?, October 21, 2016, (http://r-stylelab.com/company/blog/iot/internet-of-things-how-much-does-it-cost-to-build-iot-solution)