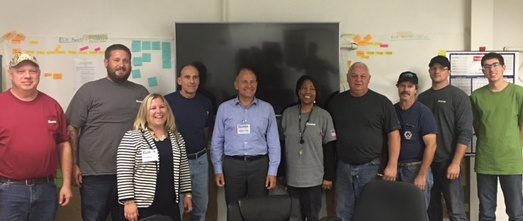 ELSNER, Hanover-based manufacturer of converting machinery, recently hosted Congressman Lloyd Smucker as he makes his way around York County since redistricting. Representative Kate Klunk joined Smucker for the visit that included lunch, discussion and a tour.
ELSNER employees enjoyed the opportunity to share their experiences as well as ask questions. With workforce development being a major concern for Pennsylvania manufacturers, including ELSNER, much of the conversation centered on initiatives to close the gap between people retiring in the next few years and hiring younger generations to work. The Congressman learned more about the apprenticeship program ELSNER collaborated on with the Hanover Area Chamber of Commerce and the PA Dept. of Labor and Industry. ELSNER employee, Zach Neighoff shared his story of his experience as an apprentice and pre-apprentice.
The visit was capped off with a tour of the facility and an open Q & A session for employees.