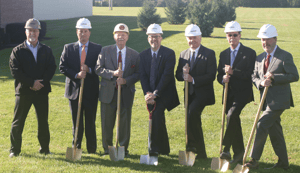 ELSNER has broken ground on an expansion that will more than double the size of their facility. The expansion comes in response to the growth ELSNER has experienced over the past five years. The space will not only add square footage to the production facility, it will add office space for engineering and administrative staff.
"We feel with added growth of the organization in recent years, in order to meet customer requirements for delivery and quality, the current space just wasn't enough," said ELSNER President/CEO Bert Elsner II. "The new space will be designed for assembly, testing and debugging of our manufactured machinery, while the existing space will be better utilized for added machining capabilities."
Andy Brough, Project Manager for Conewago , Board members Oliver Hoar, Dr. Gerhard Braun, Robert Van Sant, Chairman of the Board of Directors Bertram F Elsner Sr., Past President Rusty Elsner, and current President/CEO Bert Elsner II were on hand for a ground breaking ceremony recently held on the grounds. Construction is currently underway on the six-month project.