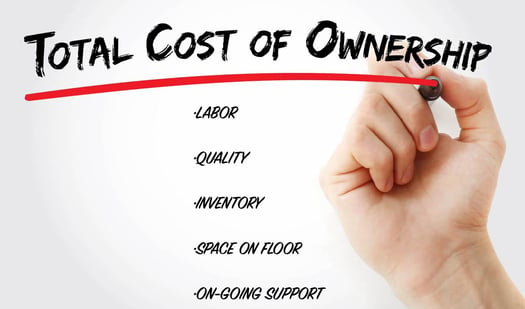 What is "Total Cost of Ownership" (TCO) and what does it have to do with implementing automated processes into your production lines? How will considering the concept of TCO in the procurement of your next production line or machine lead to increased productivity and profitability?
Let's define TCO
TCO is the combination of all visible and hidden costs associated with the acquisition, transportation, storage, finance, transactions and environmental impacts of every activity of the supply chain. Chances are your actual supply chain costs are greater than you think, including your purchase of capital equipment. Surveys indicate that Supply Chain total cost of ownership can be 20% higher than the actual price.
We know that purchasing a production line, or even one piece of machinery, is a major capital expense for most companies, and unfortunately many people look at the price of the machine solely as the bottom line cost. However, a Total Cost of Ownership (TCO) approach takes into consideration all the facets of what makes an operation efficient and, more importantly, profitable.
Top Line Efficiencies, Bottom Line Gains
When considering TCO, what are you really paying for, or gaining from your converting equipment? Saving time, labor costs, space on your floor—what are the pain points you're experiencing that automated machinery could help you solve? Implementing more efficiencies have a direct impact on gains to the bottom line.
Strategic Sourcing is a Comprehensive Approach
Most manufacturers find that considering transitioning to an automated line, a more holistic approach is beneficial. A goal toward Strategic Sourcing can help manufacturers strategize for better manufacturing outcomes across the board. Strategic sourcing focuses on customer needs, organizational goals and market considerations. As a part of the strategic sourcing process, TCO provides a more complete and competitive measurement of both direct and indirect acquisition costs. It allows for cost comparisons that ensure you are capturing everything that could have an effect on your bottom line. MEP Supply Chain Optimization provides many resources to help manufacturers by promoting a better flow of product from suppliers to customers resulting in reduced costs, improved quality and shortened lead times. They have tools such as a TCO Calculator that can be immensely helpful. www.mepsupplychain.org
Don't Dismiss the Idea of Automation Without Doing a TCO Evaluation
What Are Your Pain Points? TCO Evaluations reveal the full scope of what to consider:
Labor: Labor costs such as wages, OT, unions training, skilled worker shortages and benefits are important to factor into the equation.
Quality: Cheaper machinery can lead to less quality and consistency of product and/or skilled workforce that could be unhappy with work conditions. Production flexibility is also a key benefit..
Shipping/Freight: Are you up against difficult lead times because of freight? Are there costs associated with storing or warehousing? How about extra costs for transfer and security?
Trade Financing: Are currency fluctuations a concern? Do you have to worry about customs fees?
Inventory: Additional inventory can cost up to 35% more—are inventory costs holding you back?
On-going support and oversight: Will the lowest bidder be able to provide the on-site support needed in an economical way? Will travel costs outweigh the initial benefits of the lowerprice?
Intellectual Property & Security: In this day and age, protecting yourself against infringement on patents or trademarks can be devastating. The wrong partner could put you at risk.
Energy Costs: More companies are cognizant of Carbon Footprint and depending on travel and freight, this can be an issue.
So when considering the boost in output and efficiencies you stand to gain by incorporating automation into your process, maybe a better question to ask yourself is what's the cost to my bottom line If I DON'T AUTOMATE?
You don't necessarily need to reinvent the wheel. There are many ways that automated processes have been and can be implemented and Elsner has solved hundreds of problems over the years. Engage an expert who has experience in customizing real-world solutions to real-world pain points.