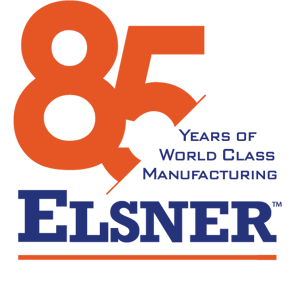 ELSNER celebrated 85 years of world class manufacturing on October 17 with an invitation-only open house celebration and ribbon cutting for its 60,000+ square foot expansion. Customers, employees and community members gathered to enjoy refreshments, tours of the facility and ELSNER Expo displays.
"We couldn't think of a better way to honor the great milestone of 85 years than have a ribbon-cutting for our new expansion," said ELSNER President/CEO Bert Elsner, II. "It was a great evening seeing employees, colleagues, friends and family enjoy touring the new facility and celebrating with us."
In honor of the milestone, ELSNER was recognized with a Citation from the Honorable Kate Klunk from the House of Representatives of the State of Pennsylvania.
The Citation states, "ELSNER has maintained a tradition of continuous innovation and precision, manufacturing converting and automation machinery that boosts its customers' competitive edge. The House of Representatives of PA salutes ELSNER upon its richly deserved recognition, offers best wishes for continued growth and success in the years to come."
ELSNER is poised to make good use of the newly expanded facility.
"We feel with added growth of the organization in recent years, in order to meet customer requirements for delivery and quality, the current space just wasn't enough," said Elsner II. "The new space is designed for assembly, testing and debugging of our manufactured machinery, while our existing space can now be better utilized for added machining capabilities."
For a recap of the event, watch this video: