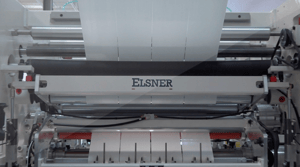 There are a number of automated manufacturing technologies that make a true difference in boosting productivity. The use of ultrasonic welding is on the rise at ELSNER as we help our customers further automate labor intensive operations.
how does ELSNER utilize ultrasonics in machinery automation ?
ELSNER uses ultrasonic welding to bond materials, usually containing some amount of plastic, in a variety of applications, including:
Ultrasonic Tail Tie: an option for our canister wipes production lines featuring the ENR-1000 and G-3.

Ultrasonic Tail Tie provides a glueless option for controlling the tails on rolls of canister wipes and similar nonwoven products with minimal compliance issues.

Seam welding:

we have used ultrasonic welding to form tubes of film from a flat master roll.

In filtration manufacturing for element assembly and pack building as well as other material attachment applications.
Ultrasonic provides many benefits over glue:
No mess
No consumable inventory
No lost time for preheating
No charring or discoloration.
The bond strength can be easily controlled.
Ultrasonic welding does not add any additional ingredient to mix.
Ultrasonic bonding works well with many materials including: melt blown, spunbond, spun lace, air laid and thermal bonded. We can test your material and even get it ELSNER Certified with a ready-to-run recipe. Contact us with any questions or to discuss your next innovation.