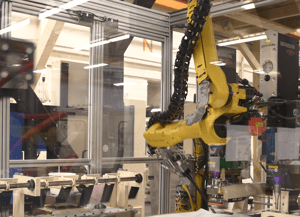 Your machinery and your people are two of your biggest costs. Add a worldwide pandemic to the mix, and manufacturers are looking to automated solutions for more resilience to disruption in the future. Implementing more automation has been a growing initiative, but COVID-19 has upped the ante in working to better prepare to keep production going even amidst crisis.
Worker Safety is Paramount:
Labor pressures are nothing new, but COVID-19 has made labor-related issues even more challenging. "Social distancing" was not a known term before the pandemic hit. Now, the term is everywhere and manufacturers are needing to implement strategies to maintain more space between workers. Manufacturers are doing everything from shutting down plants to staggering shifts, to changing production line layouts to alternating breaks. Unfortunately, with a lack of options and smaller staffing, continuity to maintain throughput has been difficult for many manufacturers.
Automation offers the options needed to manage workflows even during a situation such as the coronavirus crisis. That is why despite budget shortfalls and declining productivity, many manufacturers are leaving room in the budget for investments in Automated Solutions as a longterm strategy for stability. There's never been a time that more clearly highlights what NOT automating will cost you.
Beyond Worker Safety: More Pain Points Automation Helps Conquer
Improved Quality and Consistency: With less room for human error, there is a higher level of quality, precision, and accuracy. Automation makes it easier to handle repeat tasks with greater uniformity and conformity over manual methods. Utilizing your employees to concentrate on more stimulating tasks can also up company morale.
Boost Productivity: Automated processes produce many efficient, productivity-related boosts. Unit costs go down, throughput goes up, and you'll have more predictable and accurate throughput with far fewer defects.
Space-saver:Automation helps you save floorspace with a more compact footprint which also helps more easily ebb and flow with inventory.
Why ELSNER for Automated Solutions?
As a US-based company who has grown with the times, we have seen many trends come and go. Choosing your manufacturing partners is important to get your operation to the next level and ELSNER is uniquely positioned in the marketplace to possess a broad view on manufacturing, having designed machinery for many diverse and complex markets. We have the context and experience to help you evaluate new markets, new substrates and the potential your operation holds.
ELSNER Automated Solutions in Action that save our customers time and money:
"Glueless" Ultrasonic Tail Tie:

when converting canister rolled wipes, once a roll comes off the machine, if the tail is not secure, it can be a problem.

The Automated Glueless Ultrasonic Tail Tie option makes the process less of a chore.

Not only does it save time and labor costs, the convenience of less mess keeps skilled workers happy, allowing them to focus on more high-level tasks.

Quality Gains for Filter System: Manufacturers of spiral wound membrane filters had a lot of manual labor involved in the process of building each of their finished products. Working closely with ELSNER filter manufacturers come away with automated lines that greatly reduce labor, improve product effectiveness and gain consistency in quality.
Boosted productivity and quality of product for undercast padding manufacturer:

A medical products company realized it was time to replace an antiquated slitting and rewinding machine for the manufacture of undercast padding.

ELSNER developed the CUPR-50 small roll rewinder that dramatically changed the daily routine of the line operators, saving them time. With automation, the operator can now focus on other functions such as quality assurance and downstream production.
Automated Wet Wipes Production for up to 90% Production Gains:

When a wipes manufacturer lost facilities to a fire, ELSNER got them back in action.

Installing the fully-automatic slitter rewinder resulted in their highest quality and most efficiency to-date.

The manufacturer determined the line will speed up their production of wet wipes canisters by 90%.

A bonus, the ENR-1000 takes up less space on the factory floor so they can increase capacity.
Have an Automated Purpose Built Solution to Discuss? Contact us: eew@ElsnerEng.com
Want to know more about how ELSNER can help you implement automation into your manufacturing?
Download our E-book: