This holiday season ELSNER has been enjoying some fundraisers and volunteering for a great cause, Roots for Boots, a non-profit that involves community support and provides direct assistance to our military heroes and their families. ELSNER has many team members who have served for our country. We are proud to support Roots for Boots as it provides opportunities for ordinary citizens to have the chance to serve our country by assisting those who sacrificed in the name of freedom. And at ELSNER, we decided to have a little fun while we are at it!
The ELSNER Fun Committee came up with a great way to have some laughs while supporting Roots for Boots. As part of a Roots for Boots Donation Drive, ELSNER employees could sign up to Pie an Employee. Raising $1500, the drive saw ELSNER employees who volunteered to be pied in the face and literally take one for the team!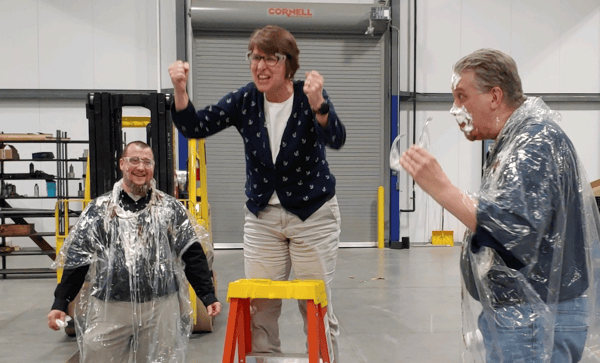 Deb Utz alongside with other ELSNER employees Bri O'Brien, Angie Klunk and Tiffanie Danner organized the pie events. The idea to support the organization came from Deb Utz who participated in other Roots for Boots events in the community. She thought with the many veterans in our workforce at ELSNER this would be a great cause to highlight.
Who signed up to be a pie target and why would they do it? Whether just wanting to show support or stir up a little rivalry, let's hear from them a bit about the "why" behind their support and willingness to take a pie in the face:
"As a veteran and a member of this community, I felt it was important to support this program," said Plant Manager Charlie Slayton. "I take great pride in being able to help the people of this community that served our country. The pie to the face was a short lived sacrifice and easy way to help raise money for such a great cause."
"The group was figuring out creative ways to raise money and came up with the pie idea," Project Manager Mike Chase said. "They asked if I would take a pie in the face? I said sure--I'll take many pies in the face to support this cause!"
"Personally I did it for the camaraderie, " commented Bookkeeper Julie Zumbrum. "I was hoping more people would want to pie me in the face and I would beat (Mike) Chase. I actually got a real pumpkin pie in the face. Sadly I didn't get to eat the remains."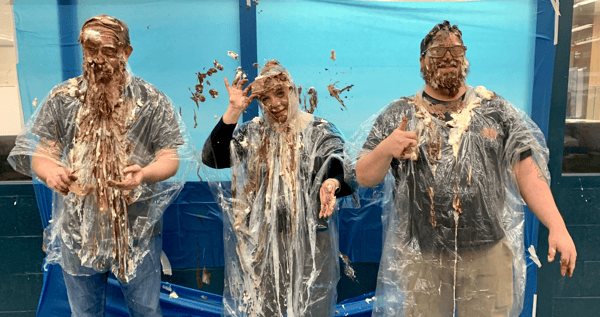 "I have always been a huge supporter of the military and veterans because I don't think they always get the recognition they deserve so I always try to go above and beyond to do anything I can to help any veteran or active service member in need," said Adam Klunk, Quoting Specialist. "They are willing to so much for us, so getting pies in the face seems small compared to their sacrifices. I am also a member of a motorcycle group called The God Bless America Motorcycle Color Guard we do a lot of veteran and service member type events like replacing the flags at mount Olivet cemetery and leading funeral processions for veterans. So regardless, I'll do anything I can."
"Roots for Boots provides support for military veterans and their families," remarked Scott Chappell, Engineering Manager. "I have many family members that served in the armed forces including my two brothers. The sacrifices that are made by our military are truly amazing, and I wanted to be part of this fund raiser to help provide more for the heroes that serve our country. In this case, it helped to create some fun in ELSNER Engineering as well."
"I have worked with Christy Lucas and the Roots for Boots organization many times throughout the years with the Young Marines and I have personally seen the life changing work she does for our Veterans," said Joes Despines, Assembly Supervisor.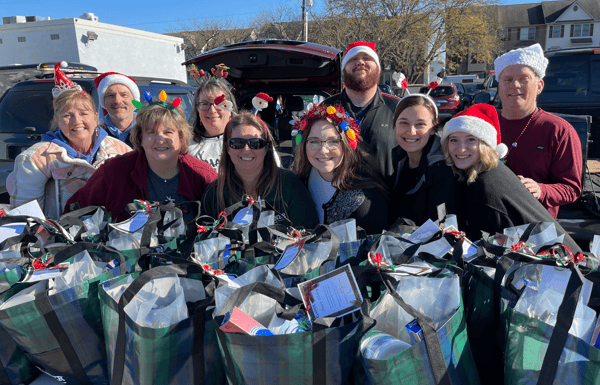 ELSNER also worked with Roots for Boots and packed bags for veterans, delivering them at the local VFW. Among the goodies in the bags were items that ELSNER machinery converts: rolls of aluminum foil, canisters of disinfectant wipes and gift wrap specially run at ELSNER on our rewinder. ELSNER also provided ELSNER beanie hats. We are thankful to Boyers Orchards who donated six bushels of apples for the bags.
Roots for Boots CEO Christy Lucas said, "Our veterans LOVED the gift bags. They truly made a difference ... God bless you all and Merry Christmas!"
Want to donate to Roots for Boots? Click Here.
Want to join our team of fun, inspired and supportive people? Visit our Careers Website and learn more!