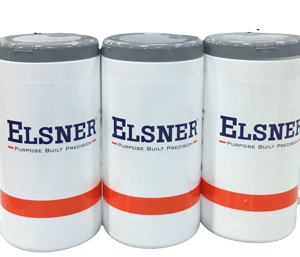 Did you know there's a right and a wrong way to disinfect? Do you read the instructions on your canister of wipes? As we go about our day to day, it's easy not to. Reality is, many of us don't take the time to ensure we are following the instructions in order to allow the disinfectant solution on the wipe to do its job.
As designers and manufacturers of rewinders that produce many wipes in the marketplace, when we at ELSNER open up a canister of disinfectant wipes, we tend to focus attention on the quality of the roll and the perforation pattern because we can tell if it was made on our equipment. In this current environment of COVID-19, we are now more concerned than ever (like everyone else!) with the disinfectant properties of the product.
Check out this article from Happi, the leading media company covering the global personal care, household and industrial and institutional cleaning market. They clearly outline the correct way to disinfect in order to kill viruses and germs: "Americans Don't Disinfect Properly".
Once the COVID-19 crisis is under control, we will all benefit from maintaining hygiene improvements we are putting in practice to avoid the spread of illness.