Your machinery and your people are two of your biggest costs. Add a worldwide pandemic to the mix, and manufacturers are looking to automated solutions for more resilience to disruption in the future. Implementing more automation has been a growing initiative, but COVID-19 has upped the ante in working to better prepare to keep production going even amidst crisis.
Worker Safety is Paramount:
Labor pressures are nothing new, but COVID-19 has made labor-related issues even more challenging. "Social distancing" was not a known term before the pandemic hit. Now, the term is everywhere and manufacturers are needing to implement strategies to maintain more space between workers. Manufacturers are doing everything from shutting down plants to staggering shifts, to changing production line layouts to alternating breaks. Unfortunately, with a lack of options and smaller staffing, continuity to maintain throughput has been difficult for many manufacturers.
Automation offers the options needed to manage workflows even during a situation such as the coronavirus crisis. That is why despite budget shortfalls and declining productivity, many manufacturers are leaving room in the budget for investments in Automated Solutions as a long-term strategy for stability. There's never been a time that more clearly highlights what NOT automating will cost you.
Beyond Worker Safety: More Pain Points Automation Helps Conquer
Improved Quality and Consistency

: With less room for human error, there is a higher level of quality, precision, and accuracy. Automation makes it easier to handle repeat tasks with greater uniformity and conformity over manual methods. Utilizing your employees to concentrate on more stimulating tasks can also up company morale.

Boost Productivity

: Automated processes produce many efficient, productivity-related boosts. Unit costs go down, throughput goes up, and you'll have more predictable and accurate throughput with far fewer defects.

Space-saver:

Automation helps you save floorspace with a more compact footprint which also helps more easily ebb and flow with inventory.
Why ELSNER Filtration for Automated Solutions for Spiral Wound Filtration?
As a US-based company who has grown with the times, we have seen many trends come and go. ELSNER has over 20 years of experience designing, engineering and manufacturing machinery that automates the process of manufacturing spiral wound filters. Our line of automated filtration machinery removes manual processes and helps our customers manufacture a superior product. Choosing your manufacturing partners is important to get your operation to the next level and ELSNER is uniquely positioned in the marketplace to possess a broad view on manufacturing, having designed machinery for many diverse and complex markets.
What tasks can in Action that save our filtration customers time and money:
Automatic Membrane Folding:
The EMF-42 automatically converts membrane and plastic mesh into folded "leaves" for spiral wound elements.
Filter Assembly and Rolling:
The APB-42 provides automatic pack building. The machine is designed to bring together filter components to produce spiral wound filter elements.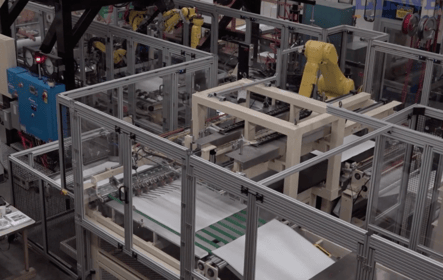 Filter Element Finishing:
The Element Trim Saw is designed to finish the edges of industrial liquid filtration elements such as those made on the ELSNER EMF-42/APB-42 Element Production Line.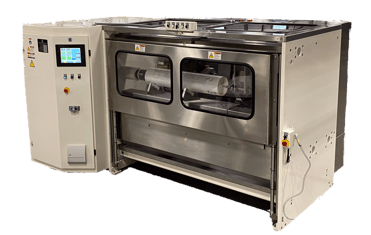 Have an Automated Purpose Built Solution to Discuss? Contact us: eew@ElsnerEng.com
Want to know more about how ELSNER Filtration can help you implement automation into your manufacturing? Contact us: eew@elsnereng.com