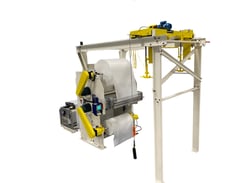 ELSNER's latest offering for rolled wipes production, the Elsner Mill Roll Splicer, is perfectly integrated with our ENR-Series machinery and is designed with OEE in mind.
Measuring OEE is an important practice and choosing the right equipment is essential. Combining the industry-proven ELSNER ENR-Series automatic perforator rewinders with The Elsner Mill Roll Splicer wipes production give customers the best chance of an optimized OEE.
Eliminate downtime with the Automatic Mill Roll Splicer
Don't want to lose production time to roll changes? Meet the Mill Roll Splicer: production never stops to change and splice a mill roll.
What's the best way to truly understand what our equipment does for our customers? Ask them! We went to one of our customers who have integrated a Mill Roll Splicer into their ENR-G3 production line to find out what gains he is seeing.
They asked Elsner to develop this integrated splicer system to the market. We're happy to share their story:
Why did you choose to add the splicer?
We requested it. We wanted a solution to eliminate the time it takes to change out the mill roll. The solution didn't exist, so we worked with ELSNER to identify the right specs for a splicer that was perfectly integrated with our rewinders.
What advantages have you seen from adding the splicer? What has it done for your production?
Production is at an all time high. When we talk about OEE we consider: first piece yield, head count, uptime. The splicer can affect uptime drastically.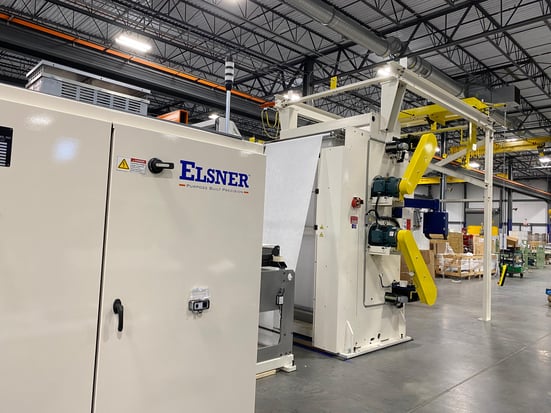 If time is the most important benefit from integrating the splicer, how much time have you saved?
With our production lines, we have found that with a top-level operator, a roll change and splice can take as little as 4 to 5 minutes. Unfortunately, with today's labor issues, we don't always have consistent or top-level operators, so this number can vary greatly. A mediocre operator might take about 7-10 minutes. With the splicer it's not down to zero downtime because the machine does have to slow down to perform the splice. But the splicer can generally cut 5 to 10 minutes of downtime per change.
Other than time, what other notable benefits have you seen?
Aside from time, it's also how it alleviates the difficulty with finding good operators. We have 2 lines we compare back and forth. Line 1 has two ENR-1000s that feed a single filling line. Line 2 has one ENR-G3 feeding a single filling line. The labor is very different for each line. Line 1 requires 1.25 operators per ENR-1000. On line 2, we have found that with the splicer, our labor utilization is about 100% with 1 operator, and often we find we almost need less than 1 operator. This frees them up to do quality checks. They can get ahead of the splice, set it up and be ready before the splice. It makes everything so much more efficient.
Have you seen the ROI you hoped for with the splicer?
For us, the ROI makes sense because we are cutting out all the downtime to splice. 4 to 10 ½ minutes depending on the skillset of the operator is huge. Stable crew is hard to find, and skill of labor makes a major impact. For us, the ROI is realized. We are seeing record numbers with metrics like pieces per unit, pieces per hour, pieces per shift. We are crushing it with the decreased downtime. We have many instances of hitting 90% OEE for throughput—great numbers. In my opinion, if you're getting anywhere near perfect throughput out of your machinery, that is incredible.
So, you've been satisfied with the splicer?
As the innovators, we've had bugs to work out and innovation costs to absorb. But overall, I'm very happy with the splicer as well as the support and partnership we've gotten from ELSNER.
Want to see the ROI? Contact a Sales Engineer and he can calculate ROI in a flash with a few metrics like roll length, web speed and mill roll changes/day. eew@elsnereng.com