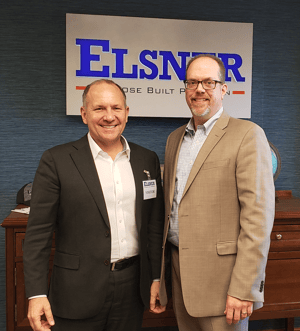 ELSNER was pleased to host Congressman Smucker as he stopped by for a visit. ELSNER employees gave the Congressman a tour of the new expansion and gave him insight into their growth as well as types of converting machinery ELSNER manufactures.
"We are proud to show Congressman Smucker our 60,000 sf expansion," said ELSNER President/CEO Bert Elsner II. "The expansion is a direct result of the growth we have been experiencing over the past several years. We have workforce needs associated with that growth and it was great to have the opportunity to sit down with the Congressman to discuss those needs. There are many ways we have been working to attract a quality workforce and we enjoyed sharing those during our visit."
Smucker learned about ELSNER's successful Pre-Apprenticeship Program and Apprenticeship Program and how they are great assets in attracting qualified employees. ELSNER has been a leader in Workforce Development initiatives, hiring the first Pre-Apprentice in the state of PA and has been a key stakeholder in developing the program.
ELSNER's machinery manufactures end use products that touch the lives of millions of people, all over the world. From canister wipes to surgical drapes to rolls of aluminum foil, chances are you've bought a product made on an ELSNER machine at some point. Our strategic growth plans mean we are always looking to add great people to a great team. For our current job openings and recruitment needs, and to learn a little more about working at ELSNER, visit www.ELSNERcareers.com