April is National Welding Month, so I thought it a good time to recognize the impact of welding here at ELSNER. Frank Elsner, Sr's welding skills had much to do with the successful start of his company. "You break it, we fix it" was his early motto. He would hook his gasoline powered welder to the back of his truck and meet the customer wherever they needed…farm, factory, you name it…to put himself to work.
I don't know about you, but the idea of gasoline and welding do not sound like a good match. But, I am no welder, so let's visit with the current welding team here in the factory.
We currently have (3) full-time welders and one pre-apprentice welder. Jack Slonaker is a high school senior enrolled in the state certified pre-apprentice program that encourages high school students to get out in industry and get a glimpse of all the career choices that are available to them when they graduate. We are seeing a return to respect for skilled workers and trades being better accepted as a career goal for kids coming out of high school. A rise in manufacturing is providing well paying jobs where kids can use their best skills and make a great career for themselves.
Pete Truesdale has worked at Elsner since shortly after graduating from Hanover High School in 1977. Pete, have you always worked in the weld shop or did you have other roles here at ELSNER?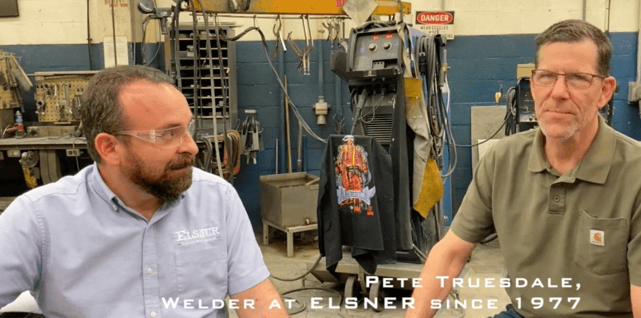 Pete: I started out in the weld shop putting two piece parts together.
Jay: Pete, there has been very little turnover in our weld shop over the years. When I started here it was you and Gary Rebert and you had both already been here for some time. I heard stories of someone named Happy Gouker and my great-uncle Bun Smith, but not many people have cycled through here. Why do you think that is?
Pete: Well, I guess when you find something you enjoy doing and you get better at it you stick with it.
Jay: Do you work with Jack Slonaker, pre-apprentice?
Pete: Yes--a fine young man from New Oxford has a lot of potential. I could see him being here 5, 10, maybe 15 years. Maybe not 40.
Jay: Do you see a benefit to the program for high school students?
Pete: Yes definitely. He can get a taste of this and if it isn't what he thought it would be he will find out early.
While Pete is the official 'lead' in the weld shop and has a wealth of experience to share, I think the emotional or team spirit leader is probably Shane Callen. Shane is a veteran of the Unites States Armed Forces serving with the 189th Calvary. Shane, thank you for your service…and he has now been with ELSNER for 6 years.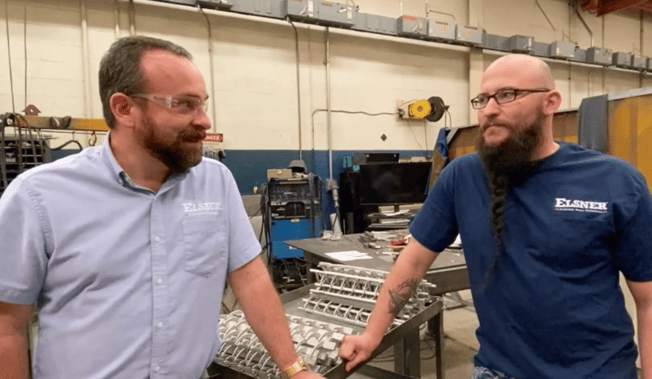 Jay: Shane, what keeps you motivated and so positive all the time?
Shane: I just really love what I do, working with different materials.
Jay: Have you ever used a gasoline powered welder?
Shane: I have in the service in Korea and Afghanistan. They are powered by gas to make electricity and are pretty easy to use. Maybe Frank wanted to sound cool when he did it...
Jay: But not as scary as you might think?
Shane: Nah.
Jay: What do you think of the Pre-apprenticeship program?
Shane: it's a great chance for kids to have a door to walk directly through. I think times have changed --when I was in school they said that you had to go to college to make a living. Nowadays trades is kind of where it's at.
Our full team of welders is critical to our ability to build and support both our new ELSNER machinery and legacy designs for that rare occasion when something fails. In our weld shop, we still have that 'You break it, we fix it' attitude…whether it is an issue with an ELSNER built machine or something a neighboring company needs repaired in a hurry.
If you would like to see what other career opportunities are available here at ELSNER, visit our website or our dedicated 'careers' page at www.elsnercareers.com
Until next time….keep on rollin'