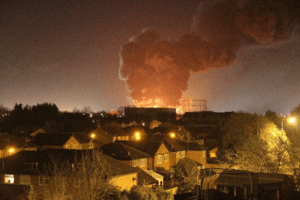 No one could have seen it coming. On an early morning in January, a fire ripped through a manufacturing plant in the outskirts of London, destroying the industrial space and along with it 7 converting machines and production lines. A blaze so large it could be seen for miles, it took fifteen fire engines and 97 firefighters to extinguish the flames. A leading manufacturer of canister wipes, the company knew they must respond swiftly and with resolve in order to keep the business going. Their immediate move to an old factory space, coupled with great partnerships to facilitate new warehouse space and custom automation machinery allowed them to barely skip a beat.
ELSNER was one of the partners who stepped in and helped the company get back on track. The need for high quality, automated converting machinery was imperative and ELSNER delivered. ELSNER saw this as an opportunity to provide an automated, turn-key system that has since resulted in better efficiencies. In fact, the one production line packed the power of seven machines. Partnership is truly why this company saw such a high level of success coming back from such devastation.
The Importance of Partnerships in Automation
You don't have to have a fire to realize the need for good partnerships. Implementing automation solutions for your production can be some of the biggest decisions you can make, including expenses, equipment, personnel and productivity. With the day-to-day blocking and tackling that goes on, it is understandable that there is a lack of awareness of the various automated machinery available. How to implement seems daunting and requires a team unto itself. You don't know what you don't know, so making sure your vendors are more than just providing machinery , but are providing expertise is important. ELSNER's expertise of 85+ years of manufacturing converting machinery means we've seen just about everything when it comes to converting machinery and production lines.
ELSNER's Top 4 Reasons to Engage Partners When Considering Automation Solutions
1. Accessing Highest Level New Technologies without Breaking Your HR Budget
Expending resources for training and bringing technology on-staff full time can be costly, not to mention, it can be difficult to keep up in fast-paced industries. It is better for us to partner with others who can provide the latest and greatest. Our seamless integrations are often so well-polished that the customer just sees "team" not separate entities. Such is the case with an ELSNER partner, Weldon Solutions who provide robotics and programming services.
2. Being able to recognize opportunities and act on it: Extend your product lines
Focusing on doing what we do best doesn't mean that we miss opportunities to provide additional products and services to our customers. This is when we seek out a collaboration with a complementary vendor to extend our product line as well as open new markets. We've worked with other vendors to yield the most advanced, fully-automated, high speed wet wipes production line in the world.
3. Simplify to Amplify: Increased Revenue and Streamlined Customer Experience
With increased market access comes additional revenue streams. When the strategic objective is aligning complementary services with a partner in order to provide a "one stop shop" for customers, we are able to sell deeper into our customer relationships. A fortunate bonus for the customer is that the team built while leveraging the partnership equates to a streamlined, less complicated experience than if the customer were reaching out to multiple vendors on their own.
4. Your Customers, the Ultimate Partners
We would be remiss if we didn't mention the benefits to building partner relationships with your customers. We build custom machinery, so in many ways, we are truly an extension of our customers as their vision becomes our next machine to build. Without a collaborative effort, we wouldn't be able to deliver the truly unique pieces of machinery that drive our customers' business--to the tune of over 3000 machines in more than 60 countries.
Case in Point: An Automation Example
A great example of taking our precision engineering and combining it with our customers' original design intent to create a cutting edge end product is with a filter manufacturer. Combining folding and rolling technology, ELSNER was able to design and construct a machine that can produce an innovative filter that makes potable water from sea water. That machine automates processes that were previously manual and required much more time and labor.
Guilt by Association: One Caveat to Consider
As the saying goes, you are only as strong as your weakest link, so we strive to align ourselves with the right partnerships to preserve our reputation. Our customers' experiences and ultimate satisfaction are of the utmost importance to us. WE want to ensure all partnerships exemplify the ELSNER standard that has made us an industry standard since 1934.
To discuss Automation Solutions or to consider your unique innovation, contact a Sales Engineer: eew@ElsnerEng.com